.
.
presenting
.
.
.
.
.
*drumroll*
.
.
.
.
my own version of pavlova
taraaaa!!
MangoChoc Pavlova
hahaha. belum apa-apa lagi duk tunjuk gambar:p hehe.
ok ok. ni percubaan pertama yer. lepas makan di
serai
&
delicious
duk teringat-ingat kat pavlova. pastu terus google cara-cara membuatnya. sekali rupanya senang gilaaaa. ting!! terus teringat kat wedding gifts yang korang kasi. yess ada peluang nak guna.happy happy! so apa lagi budak-baru-nak-belajar-ni dengan rajinnya pun mecuba lah.hehe.
actually memang senang gila nak buat. just mix-mix pastu bakar.ting! siap! hehe.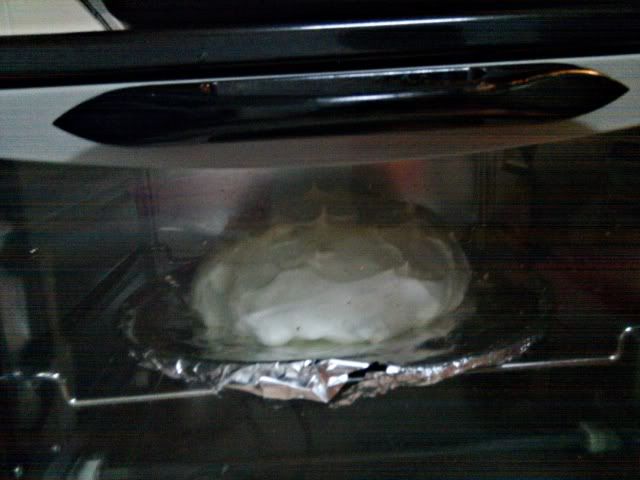 mr.pavlova in the making. buat kecil dan comel aje. nak makan berdua jer pun.
sebenarnya tak berani nak buat besar-besar.takut tak jadi.hewhewhew;p
sudah siapp!
untuk topping guna apa yang ada dalam fridge saja. first time buat so malas nak beli strawberry bagai.mahal.so kita improvise saja apa yang ada.hehe
tapi sedap jugak guna mango. serius sedap.
eh ni bukan nak puji masakan sendiri yer;p
bahagian dalamnya yang cair di mulut. macam mashmellow. lembut dan sedap. keras di luar lembut di dalam:p
cubaan pertama berjaya. tengah berkira-kira nak buat untuk birthday my mom. maybe kalini boleh guna strawberry as topping.hehe
ok ini
recipe
nya. try lah. kat youtube pun banyak jugak:)