untuk decoration tak semua kami ambil pakej dengan abg saiful. ada jugak yang diy sendiri.
tapi bukan semua lah puan pengantin ni yang buat, banyaknya puan pengantin hanya menyediakan bahan dan draft idea decoration. memang tak mampu nak buat sendiri, itu pun ada gak idea tak dapat implement sebab kesuntukan masa dan jugak cuaca tak mengizinkan. bila pengantin yang nak handle semua memang tak sempat. sebenarnya penat jugak nak jadi project manager untuk wedding sendiri.hahaha. akhirnya just redha and let go bagi orang lain yang buat:)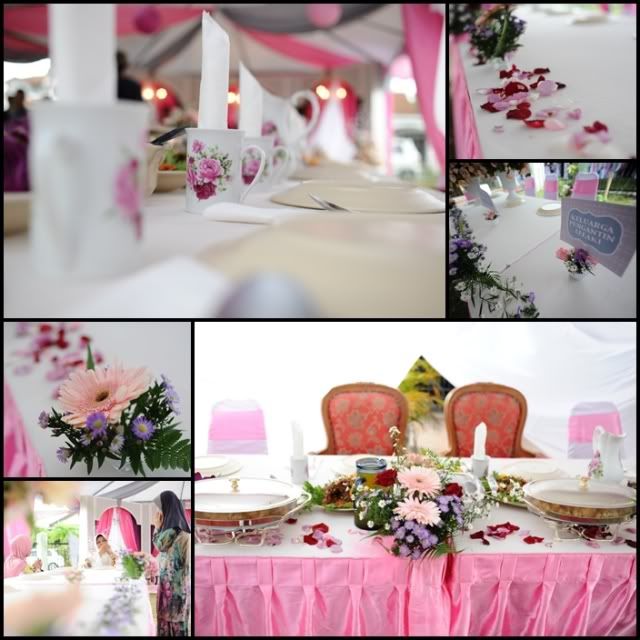 untuk meja beradab memang buat sendiri sebab tak ambil pakej dengan caterer. deco meja beradab ni memang lepaskan kat kawan my mum yang sangat creatif, auntie zila. malam sebelum majlis just tunjuk a few pic roughly how i want it to be and then esoknya auntie zila buat kan and the outcome i love it. deco using fresh flowers and lanterns. oh btw fresh flowers i order from
here
:)
and other decoration such as centerpiece, poster etc your truly yang buat sendiri. eh bukan yours truly lah. faliq yang design kan and then kitorang pergi print kat serdang.hehe. centerpiece malam after berinai dalam pukul 2 pagi my sis yang tolong gubahkan fresh flower dlm tiny white pot tu. hehe. just cakap kat dia camne pastu lepaskan kat dia buat. bila dah siap terus rasa ' wah berbakat gak adik aku ni gubah bunga. cantik!' hahaha. thank god i have her;)
same goes to lanterns decoration, pagi-pagi buta bangun kerah adik-adik gantung lantern. saja je tak nak gantung malam akad nikah tu sebab nak kasi feel yang berbeza sikit antara majlis akad nikah and resepsi.hehe. itu pun gantung tak banyak sebab cuaca buruk seminggu tu,hujan ribut aje. so risau nak gantung banyak-banyak takut basah. and lagi best after majlis banyak lantern hilang. banyak saudara mara ambil. cantik kata diorang. adoii nasib baik beli sendiri bukan sewa. kalau tak masak nak ganti balik. sabar jer lah. centerpiece pun sama, after majlis banyak dah hilang sebab menurut kata my mum ramai makcik-makcik ambil benda tu.tak tau lah ape diorang nak buat dengan centerpiece yang ada muka kitorang tu. haha lawak pun ada. macam-macam perangai ada:P
the doorgift : wallet from bandung , telur & cupcake. cepat betul cupcake habis. ramai yang cakap sedap. puan pengantin tak sempat rasa sebab dah habis. hehe.
banyak pengalaman dapat masa handle majlis sendiri nih. susah senang perit jerih. tapi susah macam mana pun still rasa happy dan bersyukur.hehe. sebenarnya dah start rindu dengan wedding preparation. after this nak menyibukkan diri dengan majlis petunangan adik pulak.hehe. adik yang nak bertunang kakak dia yang banyak idea.hewhewhew:p
psst : sebenarnya banyak gamabr yang nak tunjuk tapi malasnya nak upload. dah exceed quota 1gb kt blogspot ni plak. malas betul nak g upload kt tempat lain dulu.huhu